Plane of Dragons
From EZ Server Wiki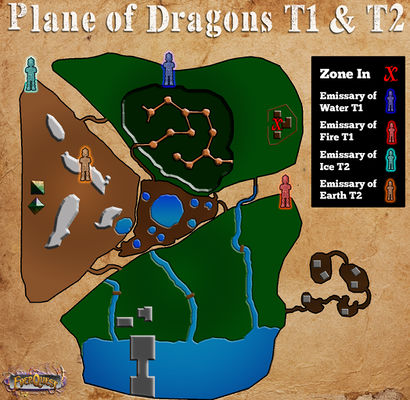 Plane of Dragons is collectively two tiers in one zone (Tier 1 and Tier 2). You get two full sets of armor in this zone, but no epics, although you do get your first epic "skin" to place the epic 3.0 augment you received from QVic. These weapons are available for free from the Weapon Vendor near the zonein. There is also a custom vendor that sells a nice finger ring that will teleport you to Plane of Dragons


You begin by killing trash in the "T1" areas to loot water and fire crystals which can be turned in to the respective tikis to spawn T1 bosses. These bosses drop armor patterns for each class type (e.g. "cloth", "leather", "plate", "chain"). Combine the appropriate armor pattern, along with a class type ore, and your unaugged Cazic Thule armor, to create your new Plane of Dragons armor. This new armor comes with a significant upgrade in health and armor class.


For T1 (but not T2), there is a "rot bot" in one of the houses near the zone in named "Rot". He will take two class type patterns and return the type of pattern appropriate for the character. This can be a great help on getting the patterns you need. For example, if your warrior (a plate class) has a cloth and leather boot pattern, he could give these two to the rot bot, and the rot bot would return a single plate boot pattern.


Once you start creating your "T1" armor, you can repeat the same process with the "T2" - but this time you collect "earth" and "ice" crystals to turn in to the "earth" and "ice" tikis, and the armor patterns are class specific, instead of class type specific (e.g. "warrior", "berserker", instead of "plate", "chain"). The new bosses are also considerably harder to kill. Combine your class specific patterns with class specific ores and your unaugged T1 armor to create your new T2 armor. This armor comes with a very significant upgrade in HP and armor class.


The T2 bosses spawn adds that can drop more crystals, but the T1 bosses do not. This makes T1 crystals much rarer and more annoying to farm, so you can make some money farming T1 crystals.
Progression
Kill Dragons in the "T1" area and loot fire and water crystals
Turn in fire/water crystals to the Fire and Water tikis
Loot the T1 armor patterns and combine them in your magic box along with your Cazic Thule armor and multiclass ore to make your new armor
Kill Dragons in the "T2" area and loot earth and ice crystals
Turn in earth/ice crystals to the Earth and Ice tikis
Loot the T2 armor patterns and combine them in your magic box along with your T1 armor and class specific ore to form your new T2 Plane of Dragons armor.
If you happen to come across any Dragon Class Armor it can be used for any class as a Tier 2 armor pattern.
Hail the Level Up Wench once you have collected all of your visible T2 armor to gain access to Halls of Honor, Airplane, and Catacombs of Dranik
Bosses
Augments
NOTE: It is highly recommended that you ignore all of these augments and instead use Resist Augments. The augments crafted here are extremely outdated and you really will want the Heroic Resists heading forward.

32 different no drop augment components drop randomly from trash in this zone, which can be combined in the magic box to create various "version 4" augments. In Halls of Honor, these same augments drop directly from NPC's without any combines, so you may or may not want to create these augments here. Once you have created the "version 4" augment, you can combine two similar "version 4" augments to make an upgraded "version 5" augment of the same type in the magic box.


Augment Components
Tips
The (warrior-only) level 4 aggro aug is a decent amount of AoE damage, so make sure you make a few!
Loot
Spell Drops