Cazic Thule
From EZ Server Wiki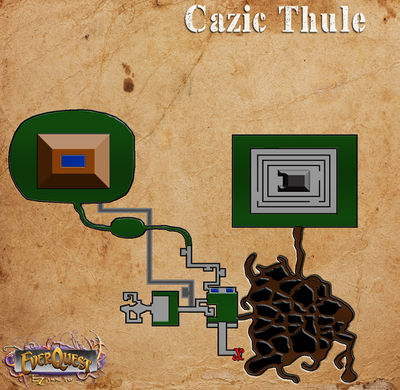 Cazic Thule (P2) is the third progression zone you enter after you reach level 70. Here you will upgrade the armor you received in Qvic by putting unaugged Qvic armor into your magic box along with patterns you receive in this zone to make your Cazic Thule armor. The armor patterns drop randomly from any mob in the zone, and are divided into four categories, "plate", "cloth", "leather", and "chain". You need to use the appropriate type of pattern for your class to craft the new armor. The bosses also drop optional(P3) upgrades that can help you break into Plane of Dragons


Rarely, an NPC will drop an Essence of Cazic Thule. You should keep these, as they are used in crafting Strike Augments later on and are very valuable.
You can alternatively use Arthicrex to obtain Cazic Thule armor drops as well as Essence of Cazic Thule. Arthicrex is considerably easier to navigate with botted groups due to much more open space.
Progression
Loot armor patterns
Combine armor patterns for your class type with your unaugged Qvic armor to create Cazic Thule armor
Loot
Note: Armor patterns rk II are optional upgrades which you can combine to improve your Cazic Thule armor. You do not need these to craft the next tier's gear in the Plane of Dragons.
Spell Drops
Click expand to see the spell drops for this zone.