Magician
From EZ Server Wiki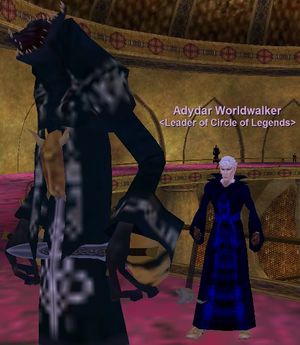 Early on, Magicians do not add significant damage to a group, however, as they progress, their pets become significantly more durable and with a Mana Necklace of equivalent tier, they do do a fair amount of DPS. With smart MQ2 setup this class requires no more effort or attention than melee dps with strike augs, but unless you invest in them heavily they typically will do less dps than a similar tiered strike melee.
The Mana Necklace for a Magician is akin to the ninjastrike augments to a Monk or Rogue on EZ. You don't have to get one, but it's rather silly not do to so. They are also one of three classes (along with Enchanter and Necromancer) that can do the Summoner's Pack quest, which allows their pet to equip an Ultimate Weapon.
Magicians are often used solely for Call of the Hero duty to summon players, however they also add a high damage shield with the incinerating aura line of spells and when targeting another pet owner, they can use their summon phantom necklace line to boost HP, AC and resists of all pets in a group.
Primary Uses
Pet DPS - See Pet Scaling for information on how other EZ items affect them.
Nuke DPS
Call of the Hero (summon ANY TARGETABLE PLAYER, limited or excluded use in some zones)
Epic Effect
Recommended Quests
EZ Custom Spells