Wizard
From EZ Server Wiki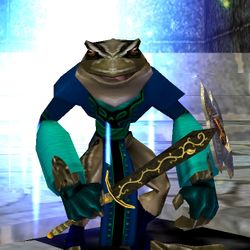 What to expect from Wizards on EZServer (2023):

The Wizards as well as all the other caster classes has historically not really been a force to be reckoned with on EZServer. In 2022 all the pure intelligence classes received a much needed boost in their damage output, making them all viable classes again on EZ. At this point they are definitely all good choices to improve your overall damage. The Wizard is currently the top DPS spell damage class, closely followed by Enchanters and then the Magicians and Necromancers. Their overall damage output is about equal to the top melee class, the Rogue. Of all the four caster classes, the Wizard is mainly just pure damage. It doesn't really get any spells or buffs that would benefit the other characters you run, like i.e. the Enchanter does.

The Wizard spells have not all been tuned. Some of the lower level spells sure could use a boost, but once you get up to Old Commons and Sunderock Springs, you can pick up some really high damage spells that will make your Wizard shine on the damage meters. In Sunderock Springs you should pick up Hatebornes Glacial Gift III and in Sleeper's Tomb the current highest hitting spell for Wizards, Dimur's Glacial Gift. Once you get to Veeshan's Peak and find an Idol of the Jailed, you can rotate that together with Dimur's Glacial Gift for max potential damage. Speaking of damage, also make sure you add the AA Prolonged Destruction in your setup and use it when you need max damage as it will increase the damage of your spells for a short period. Also make sure you add Slimy Sapphire of Cowardice, the Enchanter buff: Masked Strength and the Cloth Ultimate Armor Head for Spell: Tserinna's Enchanted Shadows to decrease the aggro you pull with your damage.

The Wizards Epic Augment adds a buff called Spell: Thick Aether Skin which adds 9% twincast. Twincast gives you a chance to double cast a spell, which is very powerful, it's the casters equivalent of i.e. the Rogues ability to double/triple backstab, only with spells. Bashers Robe of Clarity has the same effect as a duration click, which adds twincast as well, only Robe is much better overall.

June 2023: In general we have a lot of different spells and effects on EZServer. Some have been updated recently and some have not. While new spells and effects are added, they may have stacking issues with older content. As a general note, you should test stuff on the Practice Dummy yourself if you are unsure what gives you the best damage. Per June 2023 there are some issues you should be aware of involving Angryface Familiar, Mana Necklace, Brunaa's Two Toned Diamond Neckguard and Darkstone, Neckguard of Revenge. So what does this mean for you? If you have Angryface Familiar and use the buff, you don't need to get/use your Mana Necklace XII, as it will not improve your damage, rather just make it lower. However, if you have Brunaa's Two Toned Diamond Neckguard or Darkstone, Neckguard of Revenge, you should not use Angryface Familiar, as it will lower your potential spell damage.
Primary Uses
Wizard Epic List
Wizard Class Epics and Epic Augments 1.0 - 10.0
Epic Effect
Adds 9% twincast
Self Only Rune (absorbs damage)
Self Only HP and Mana Regeneration
Recommended Quests And Items
EZ Custom Spells