Anguish
From EZ Server Wiki
Anguish is one of the easier zones to achieve a full set of armor and epic. This should come as a welcome break after the months of time spent in the Abyss.

To progress through this zone, you must kill each of the 14 bosses, which get progressively harder as you get deeper into the zone, and use their armor gems to create your Anguish armor. Minibosses which spawn randomly from trash have epic pages that you put into an incomplete epic 5.5, looted from a chest, which is also spawned randomly from trash. The boss of the zone, Overlord Mata Muram drops the completed epic 6.0. To engage OMM, you must clear the entire zone, as he will despawn if you do not.

The second version of Ultimate Charm is from a quest in this zone, and will take some time, so if you plan on doing this quest, especially on more than one character, you will be in this zone for a while.
Progression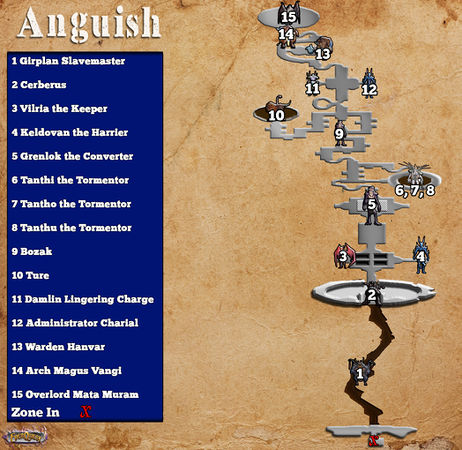 Incomplete Epic Pages
These page bosses randomly spawn from NPC trash that is killed. Combine the pages in the Incomplete Epic Book 5.5 to create the Completed Epic Book 5.5.
Ultimate Charm v2
Collect the Ultimate Charm quest from "Augment Collector" NPC
Collect 10 of each of the following augments and give them back to the Augment Collector to receive "Ultimate Charm Upgrade v2"
Loot
Tips
If you do pull and despawn Overlord Mata Muram because there are still mobs up in zone, zone your entire team out of the zone for 10 minutes. When you return he will be respawned. You can then kill all remaining mobs and go after him again.
When you do find a chest, you can either DPS it down or select the chest and type "/open" to automatically crack it open.
Jelvan: Approach Jelvan and "/say ready" to start the event. You will encounter 3 bosses, one at a time below.
Spell Drops