Loping Plains
From EZ Server Wiki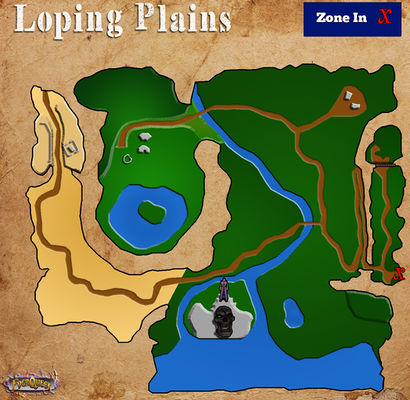 Loping Plains is an enormous zone with a lot of luck involved in farming items. Vampire Bats are the key as they always drop a single piece of armor and frequently start the Boss Cycle in the zone.

You can spawn Vampire Bats two different ways, from traps or randomly upon the death of NPCs. Traps are in random locations in the zone, and usually just spawn groups of NPCs, but occasionally will also spawn a bat.


Killing 40 of a specific set of NPCs (see Stone Droppers chart below) will spawn a new NPC which will drop a specified numbered stone. The stones can also (rarely) drop randomly from any NPC. Give all 12 of these stones to the Archaeologist to spawn the Floating Skull.

The Floating Skull can only be attacked with a Bane Weapon, which drops from Sloth as part of the Boss Cycle or an Ultimate Weapon 8 or greater. The Floating Skull drops the completed Epic book 7.0
Stone Droppers
Kill the following types of NPCs to spawn a new NPC (the "stonedropper"), which will drop the numbered stone. There should be exactly 40 NPCs required to kill in each group to spawn the stonedropper.
Killing a Vampire Bat will (hopefully) start a boss chain that will (hopefully) keep spawning through the entire chain (but not always).
Progression
Tips
Treants and Pride both cast the Druid Spell: Skin of the Drake on themselves, so you will NEED to dispel it or turn off attack for 18 seconds when you see their health rising, or you will never kill them.
To easily keep track of stonedroppers or bosses, you may want to use either "/maphide npc" -or- "/highlight npc" so that any new spawns will be easily visible. Stonedroppers have the same names as existing NPC's, so it is crucial to be able to identify them. See the MacroQuest page for more information on these commands.
Loot
Spell Drops