Sleeper's Tomb
From EZ Server Wiki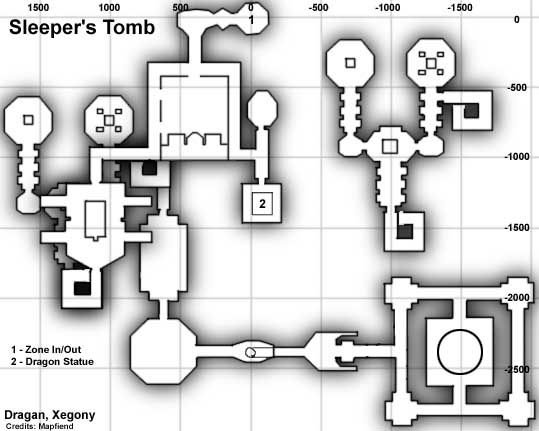 Sleeper's Tomb was introduced on November 29th, 2019, as the Tier 10.5 progression zone. It includes new spells for all classes, new weapons, armor and accessories, and quests. Entering Sleeper's Tomb requires each toon to have a minimum of 3 pieces of equipped Ultimate Armor from the previous progression zone, Sunderock Springs.
Progression
---
Warders
Tips
Loot
Weapons
Armor
Accessories
Tasks/Quests
Kill the Pests! is a quest handed out by Collector of Annoying Beings at the zone in area. It requires you to kill 4326 Pestering Annoyances a small wyvern model NPC that spawn throughout the zone. This quest awards Wings of the Angel
Ultimate Charm V4 is a quest handed out by Siconix the Cluckster at the zone in area. It requires the collection of a total of 350 random drop Charming Roses, 70 in 5 different colors. This quest awards Ultimate Charm V4
Spells
Spells do not drop in Sleeper's Tomb, they are crafted using dropped components. See spell crafting guide for information on components, and recipes for combines.