Ultimate Charm
From EZ Server Wiki
Charm Upgrades
Charms are the backbone of your team as soon as you break past Plane of Time. You can get started by combining a Noobie Item v2 with a Charm's Upgrade inside your magic box.

To make Ultimate Charm v1, you need to combine level 50 of each of Sorcerer's Charm, Brawler's Charm, Oracle's Charm, and Guardian's Charm in your magic box.

v1 charms are used to get the four charm types up to level 25, and v2 charm upgrades are used to get the charm types to the "Complete" level of 50. Charm Prism Upgrade will upgrade any level of the four charms from level 1 to level 50.
Ultimate Charm v1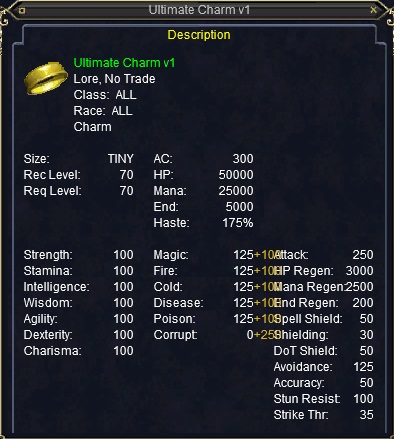 50,000 hp
25,000 hp rune
500% increased healing
300% increased spell damage
Ultimate Charm v2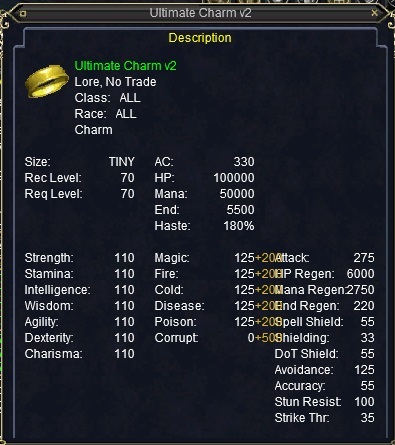 Obtained from a quest in Anguish
100,000 hp
50,000 hp rune
900% increased healing
500% increased spell damage
Ultimate Charm v3

Obtained from a quest in Temple of Veeshan
250,000 hp
100,000 hp rune
1200% increased healing
700% increased spell damage
Ultimate Charm v4

Obtained from a quest in Sleeper's Tomb
340,000 hp
160,000 hp rune
1700% increased healing
900% increased spell damage

These can drop in Sleeper's Tomb and Veeshan's Peak - Ultra rare